May 1st, 2012 at 11:19 am (Uncategorized)
Here are some snaps from my last class yesterday.  Though I gave out certificates and wristbands, I think the girls liked the little chocolate candies they got the best.  But, enough words:
Starting karate class with proper musubi-dachi (Project Crayons, 2012).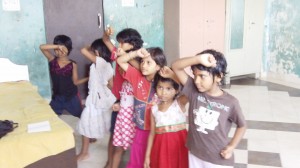 Lovely age-ukes (Project Crayons, 2012).
Note:  It was amazing to me that when I started them on stepping forward upper blocks at the far wall, the girls would have good space between them.  But inevitably, as they crossed the floor, they would clump together, and even more so when they saw the camera, the little hams. ; )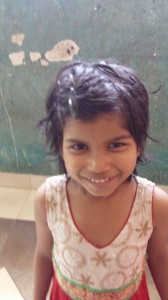 Chocolate smile (she had just received her certificate and chocolate) (Project Crayons, 2012).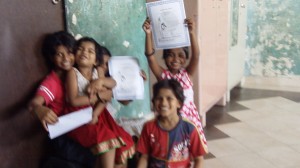 Holding the fort (Project Crayons, 2012).
Note:  This is a partial picture of Group 1, the 6 – 8 year olds, after receiving their certificates.  They are in this pile (and out of focus) because they were trying to keep the door closed on the very curious and intrusive Group 2, Group 3, and Group 4 girls who kept coming in to see what was going on.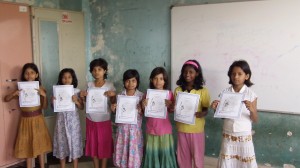 Group 2 graduates (Project Crayons, 2012).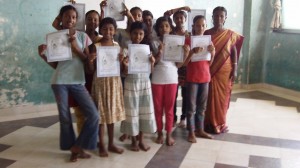 Group 3 graduates…and Mrs. Joseph (in sari, far right, who also received a certificate) (Project Crayons, 2012).
And a sad note that my camera battery died before getting a shot of the Group 4 graduates.