September 6th, 2010 at 2:57 am (Uncategorized)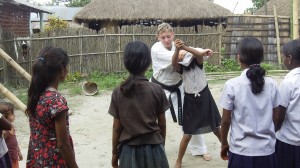 They yelled, they kicked, they palm striked. They yelled even when they didn't have to. They correctly identified a good fighting stance. They hopped (or tried to). And I just about fell over when all three lines (there were 26 girls squeezed into that little dirt alley) punched and kiai-ed in unison as I counted in Japanese. They even counted along in Japanese.
And then there was the giving of the certificates. I would sign at the top and date it, and then I would write the girl's name down at the bottom and draw a line for them to sign on. Each girl signed her own name, and then I would hand the certificate to her and say, "Thank you for being in my karate class." At first, I don't think they really got it, and just looked at the piece of paper kind of quizzically. But as word got around about what the paper was and what I was saying, the smiles were very big at the acceptance of that paper. I think Rinku, aka Silent One, had the biggest.
And so it is my honor to present the Graduation of the Karate Girls of Babuan, Class of 2010:
Nilam, Rani, Poonam, Aarti, Puja, Aarti II, Kanchan, Gunjan, Asha, Kajal, Archana, Seema, Sahdna, Preety, Manisha, Rupa, Chadhani, Neha, Punahm, Baby, Rinku, Asha II, Ranju, Rupa, Hina, Babita, Manju, Micky, and Ritu.