September 21st, 2010 at 3:39 am (Uncategorized)
The Road Home – this phrase has so many different meanings to me now. I have wondered time after time since I set foot back in the U.S. on September 8th what I would write on the blog. It is not because there are too little words to say, but too many.
For example, my actual leaving India was very emotional – that is, until the road was closed to the airport. But I'm getting ahead of myself.
My final day in Forbesgunge was punctuated with a wonderful meal prepared by Kalam and his beautiful wife.
Mutton stew, with green beans, rice, a salad of tomatoes, cucumbers, lemon, apples and bananas. Well, here it is:
There are no words to say how honored and touched I was to be in their beautiful home eating a meal that was made just for me. I will never forget it.
Pulling away from Kalam's house and heading back to the office, once again on the back of Dheeraj's motorbike, there was a shift inside me. It started to sink in that my adventure was winding down now, and that my 'going home' was beginning.
Back in my room after dinner, I began packing. I forced myself to be very practical about it. Staring at my Indian kurtas, I swept away the images that I had of washing those kurtas in the blue buckets at KGBV, of the reaction the girls and the cooks had when I first wore one (they were so pleased and approving), of the kurtas drying next to dupattas and pants around the girls hostel. Here are some pictures that remind me of those times: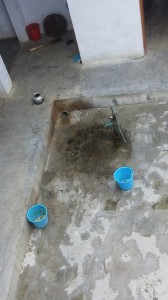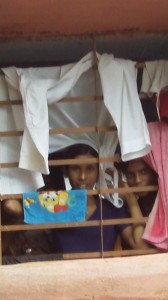 When I grabbed my karate gi, I forced myself to just consider how it would fit into my backpack, instead of remembering all the girls I had taught and coached in that gi, their beautiful faces, their determination, their laughter and smiles shining brighter than the sun. Again, more images: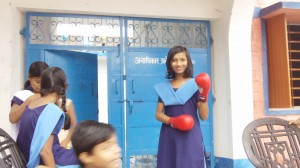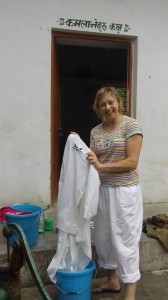 My Road Home continues. I'll post more about the scary trip to the airport, and some results of my efforts, tomorrow.