April 20th, 2012 at 4:49 am (Uncategorized)
I had a lot of fun with the young ladies of Shishu Bharti, and they were a welcome addition to my class schedule.  In a very proud moment for me, Lalita Ji had said she had never seen the girls so happy after any class, whether it was singing or dancing or music.  I was so happy to hear that, to know that what I was teaching them was worthwhile for them.  Because even though I try to make the classes as engaging as possible, these are skills that could help save their life.  I'm glad they had fun AND learned something.
As with KGBV, the young ladies were given certificates and wrist bands on the last day of class, both of which disappeared as soon as they were issued to be proudly shown to Lalita Ji.  Here is the graduation class photo: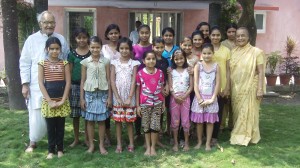 In total, 18 girls were taught (only 15 are pictured).  Lalita Ji is on the far right; her husband on the left.
Drinking tea with Lalita afterward, she asked for my suggestions for continuing this type of activity.  Smart woman.  I will be working with her virtually to provide ongoing support.